Se necesita Flash Player para reproducir este documento.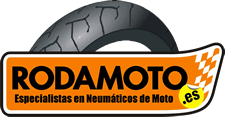 En Rodamoto podrás comprar neumáticos para tu moto al mejor precio del mercado. Te ofrecemos la más amplia gama de neumáticos de moto del mercado. Tenemos mas de 10 años de experiencia en la distribución de neumáticos de moto para todo el mundo. Disponemos de neumaticos custom , neumaticos street, neumaticos sport / street, neumaticos de trial, neumaticos de trail, neumaticos de competicion, neumaticos de cross / enduro, neumaticos para scooter y neumaticos para quads.
In Rodamoto can buy tires for your bike at the best price. With us you can buy the widest range of motorcycle tires in the market. Over 10 years experience in the distribution of motorcycle tires for everybody.
24H delivery time to Spain, Portugal, Germany, Austria, Belgium, the Netherlands, Luxemburg.
48H delivery time to Denmark, Switzerland, Liechtenstein,Czech. Rep., France, Monaco, Great Britain, Italy, Slovenia.
2-4 days delivery time to Sweden, Ireland, Poland, Slovakia, Hungary.
3-4 days delivery time to Norway, Finland, Estonia, Latvia, Lithuania, Bosnia and Herzegovina, Croatia, Serbia, Bulgaria, Rumania.